The sleek headlight design perfectly blends into the clean lines of Jaguar I‑PACE to underpin its futuristic design language, along with satin paint, integrated LED lights and signature double 'J' blades.

Jaguar I-PACE features a bold front grille shield and a sculpted hood scoop for an aerodynamic appearance. The muscular haunches create a powerful stance.

The Black Exterior includes Gloss Black side window surrounds, a Matte Graphite Atlas shield with Gloss Black surround and Gloss Black wing mirror caps. Black badging completes the look.​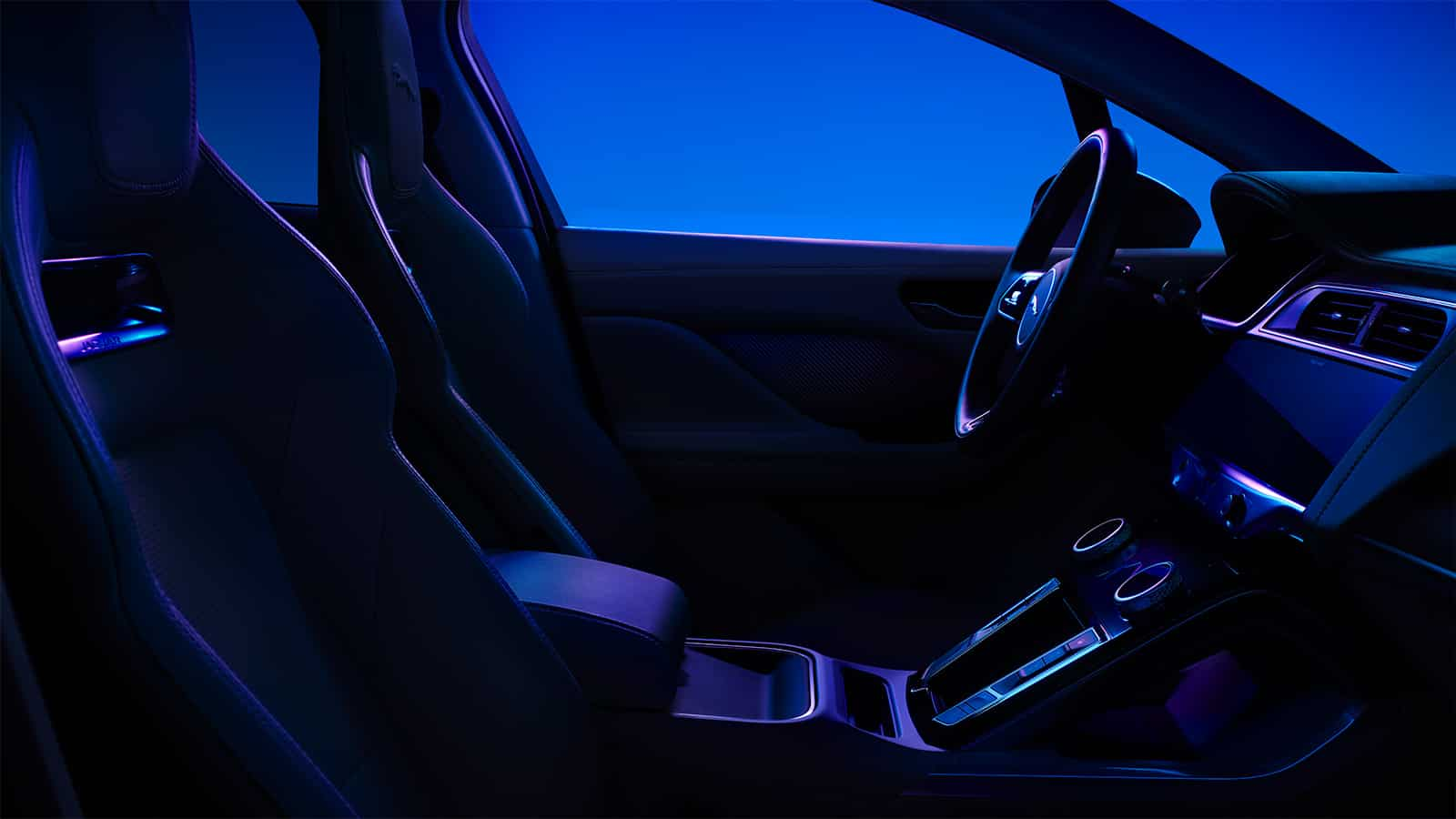 For outstanding refinement, sophisticated motor encapsulation reduces sound while the crisp exterior design minimizes wind noise.

Jaguar I-PACE's fully-electric architecture allows us to combine luxury craftsmanship, with a generous 656 litres✦ of cargo space within the vehicle's interior.

Choose Sports or Performance seats in a selection of materials. Your I-PACE is available with either Sports or Performance Seats in Windsor Leather.
THRILLING TO DRIVE, EASY TO LIVE WITH
Experience the electrifying performance of Jaguar with the benefits and peace of mind that zero tailpipe emissions provide.
ELECTRIC DRIVING SPECIFICATIONS
RANGE
Drive up to 381 km on a full charge**.
Real world figures may vary depending on your driving style.
CHARGING TIME
Using a 9.6 kW AC charger, a full charge can be achieved from just 10.17 hours**. Perfect for charging at home overnight. Time based on using a 9.6 kW AC home charger.
ACCELERATION
Capable of 0-100 km/h in 4.8 secs.
Thrilling power and dynamics. Zero tailpipe emissions. With an all-electric powertrain the Jaguar I‑PACE is a true driver's vehicle.

Packed with intuitive and responsive technologies, including the Pivi Pro1 infotainment system and Amazon Alexa, with a host of voice control features.

Charge at home or en route easily with Jaguar I-PACE. Pivi Pro1 highlights all charging points along the way.
*World Vehicle of the Year, World Vehicle Design of the Year and World Green Vehicle awarded in 2019.
**Charging times vary dependent on many factors, including but not limited to the age, condition, temperature and existing charge of the battery; facility used and duration of charge.

✦Wet: Volume as measured by simulating the cargo space filled with liquid.

Connected Navigation will require further subscription after the initial term advised by your Jaguar Authorized Retailer.

I-PACE's 90 kWh battery warranty is limited to 8 years or 160,000 km (whichever comes first). It is redeemable in the case of any manufacturing defect or should a certified Jaguar Authorized Retailer measure that the battery has dropped below a 70 percent State of Health.

Optional features and their availability may differ by vehicle specification (model and powertrain), or require the installation of other features in order to be fitted. Please contact your local Retailer for more details, or configure your vehicle online.

Please note that standard features may be replaced when selecting alternative trim levels. Standard features may also vary depending on country of purchase, engine variant and transmission.

In Vehicle features should be used by drivers only when safe to do so. Drivers must ensure they are in full control of the vehicle at all times.

Pivi and InControl features, options, third party services and their availability remain market dependent – check with your Jaguar Authorized Retailer for local market availability and full terms. Certain features come with a subscription which will require further renewal after the initial term advised by your Retailer. Mobile network connectivity cannot be guaranteed in all locations. Information and images displayed in relation to the InControl technology, including screens or sequences, are subject to software updates, version control and other system/visual changes depending on options selected.

Meridian is a registered trademark of Meridian Audio Ltd. Trifield and the three fields device is a trademark of Trifield Productions Ltd.
PLEASE NOTE
We use YouTube videos on our website. To view these videos we require you to accept the cookies which YouTube will set on your device. These are categorised as non-essential functional cookies by Jaguar.