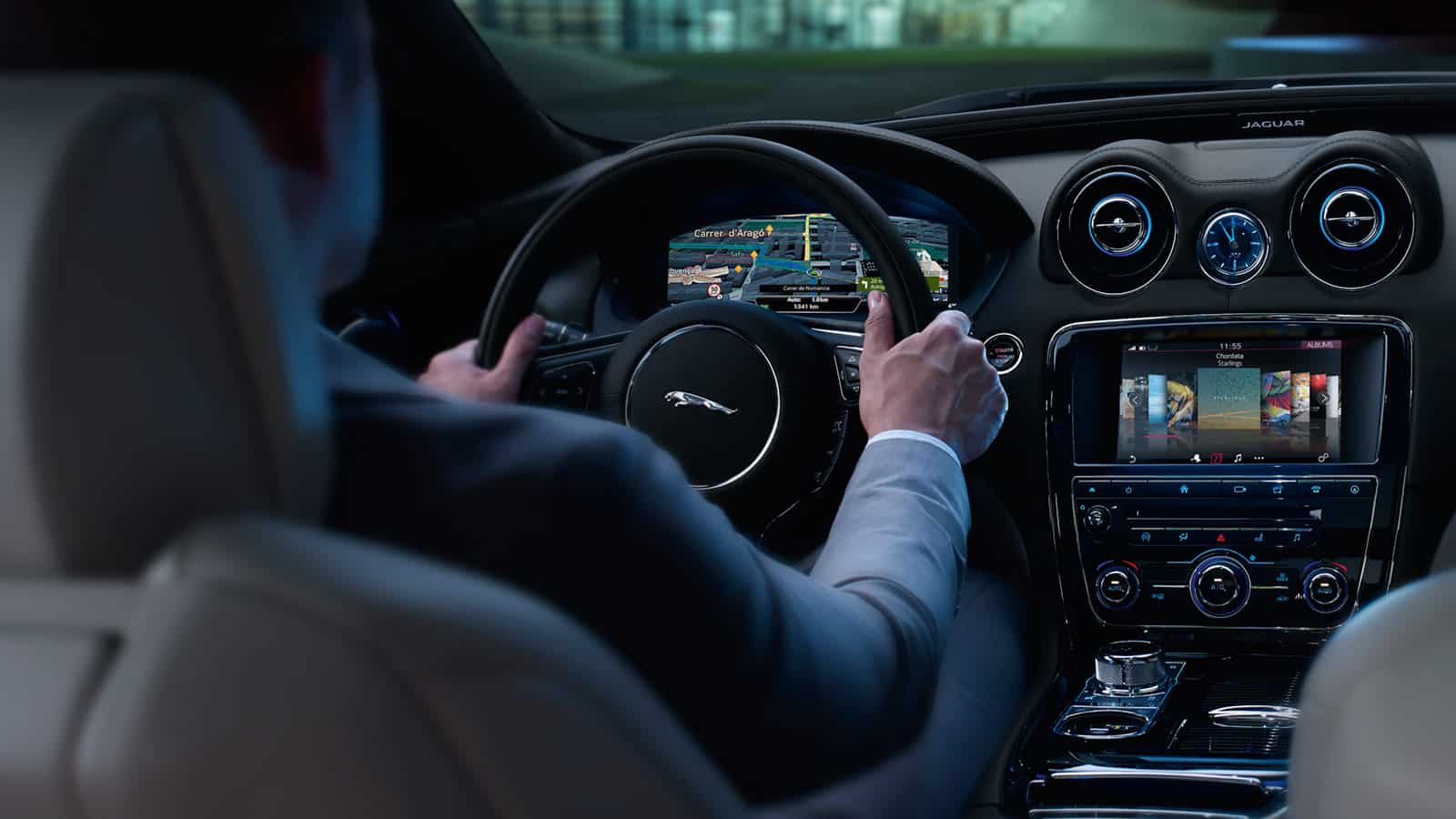 WHAT IS JAGUAR INCONTROL?
InControl is a suite of services and applications that connects you to your Jaguar vehicle and links you seamlessly and securely with the outside world.
Controlled by an Intel Multi-Core processor with High-Speed Ethernet network through the touchscreen, just like a tablet, InControl navigates accurately, keeps you connected and entertained, calls for assistance if required and more. Remote features connect you to your Jaguar vehicle from anywhere in the world via your smartphone. Driver Assistance frees you to enjoy your Jaguar's performance, whether you're parking in town or out on the road.
INCONTROL INFOTAINMENT

Our most advanced in-car entertainment system will keep you entertained, while the navigation system gets you where you need to go – from door to door. Designed to make driving safer and more enjoyable, Touch and Touch Pro deliver our most advanced vehicle infotainment systems ever. Connect your smartphone to access apps too.

MERIDIAN™ SOUND SYSTEMS

Experience your choice of music with more clarity and precision than ever before, thanks to Meridian's superb vehicle audio tech. Choose from 3 Meridian audio systems available. The Meridian Sound System, available with either Touch or Touch Pro; the Meridian Surround Sound System, available with Touch Pro; or the Meridian Signature Sound System which offers an enhanced experience.

INCONTROL CONNECTIVITY

Everyone connects easily inside your Jaguar vehicle with Connect and Connect Pro packages for a seamless experience. You're in control of your Jaguar vehicle from a distance too, with InControl Remote. And you can choose the additional reassurance of Protect and Secure Tracker options keeping you and your Jaguar vehicle safer.

INCONTROL DRIVER ASSISTANCE

InControl Driver Assistance features help you to stay safe on the road and while parking. You can minimize the risk of bumps and scratches when parking in narrow urban spaces with Park Assist. Driving features help keep your eyes on the road, alert you to incidents and hazards, and warn you if you if your concentration levels change.
As we roll out InControl, specific features described may be optional and market or powertrain dependent. Please consult your local Jaguar retailer for availability and full terms in your country. Certain features require an appropriate SIM with a suitable data contract, which will require a further subscription after the initial term advised by your retailer. Mobile connectivity cannot be guaranteed in all locations.
PLEASE NOTE
We use YouTube videos on our website. To view these videos we require you to accept the cookies which YouTube will set on your device. These are categorised as non-essential functional cookies by Jaguar.